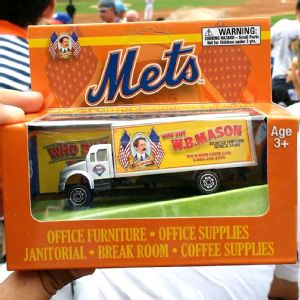 The New York Mets are working hard to maintain their reputation of goofing up.
On Sunday, the team held a promotional giveaway for its fans, which featured a toy truck sponsored by W.B. Mason, the club's official office supplies company.
This was all and well until fans began to realize that the truck featured a logo of the rival Philadelphia Phillies instead of the Mets. Doh!
"At first I thought that maybe the trucks had different logos on them, but when I looked around, everyone else had a Mets logo on the door of the truck," said Mets fan Steven Mitzmacher, 28, who works in online marketing. "So I posted the picture on Twitter and Reddit to see how far it could go."
As it turns out, the vendor in charge of making the trucks, Hit Promotional Products, admitted to being responsible for the gaffe.
"Unfortunately, this turned out to be a case of human error during the packaging stage of production, and we apologize that a few manufactured units of the incorrectly branded truck were placed in the wrong team packaging," the company said in a statement to ESPN.com. "We believe this is a very isolated issue that hadn't occurred in the past but will address to make sure mistakes like this don't occur in the future."
And of course something like this happened had to happen to the Mets.
Via
ESPN