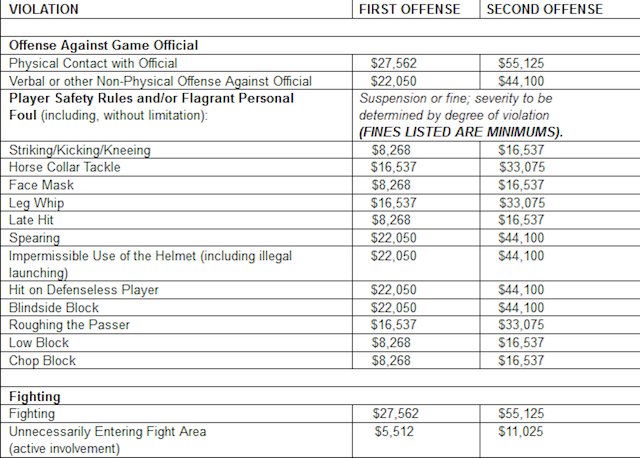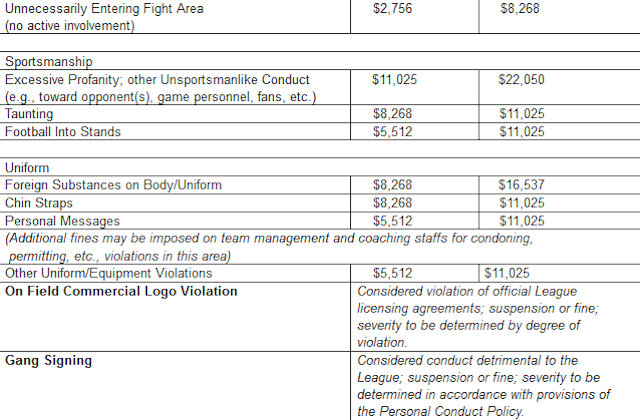 The National Football League is cracking the whip on dubious player violations such as illegal chin straps, writing personal messages on cleats, and throwing souvenir footballs into the stands.
Ben Volin of the Boston Globe
tweeted out the NFL's fine chart on Friday and it is full of potential violations and the costs associated with them.
For example, throwing a football into the stands will set a player back $5,512 for the first incident and $11,025 if the same player does it again.
The stiffest fine is assigned to a player making physical contact with an official or generally fighting at $27,562 for the first offense. These two seem justified as players should never get physical with the zebras or engage in fighting on the field.
On the other hand, getting slapped with an $8,268 fine for wearing an unapproved chin strap seems excessive at best. I mean, what kind of competitive edge can a player get by using an illegal strap?
Via
Eye on Football