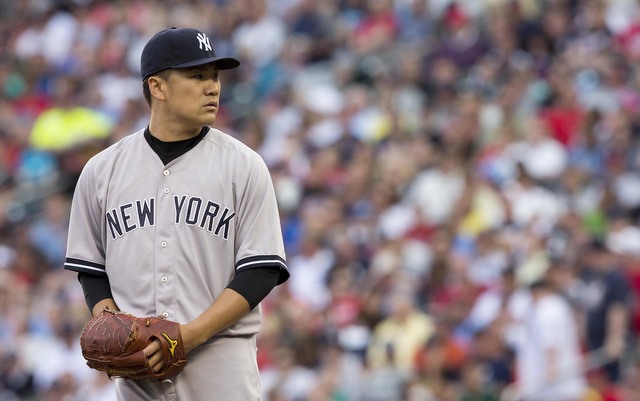 Masahiro Tanaka
just threw his name into the hat for teammate of the year after writing a sincere apology to fans and his team after suffering a partially torn ligament in his elbow this week.
The injury is expected to sideline Tanaka for at least six weeks while the Yankees try to move on in their bid for the playoffs without him. The Japanese hurler will try to rehab his elbow, but if that doesn't work, he will need to undergo Tommy John surgery.
It's a tough break for a guy who was on pace to possible win American League Rookie of the Year honors. But that seems to be the least of Tanaka's worries at this point. Check out the written apology he issued to the Yankees.
"As recently announced from the team, I will be going through some treatment and rehab on my injured elbow over the next several weeks. I give everything I have every time I take the ball. With that, I also know that there will always be a risk of injury when playing this game that I love. Right now I feel that the most important thing for me is to keep my head up, remain focused on the task at hand and devote all my energy into healing the injury in order to come back strong.
"I want to apologize to the Yankees organization, my teammates and our fans for not being able to help during this time. I accept this injury as a challenge, but I promise to do everything I can to overcome this setback and return to the mound as soon as possible."
Tanaka hails from a culture in Japan that takes playing baseball very seriously. And it is obvious that his upbringing is causing him feelings of guilt and helplessness. With that said, Tanaka should breathe easier knowing that Americans view sports injuries much differently. These things happen. The apology won't help Tanaka get on the mound any sooner, but it will help his already sparking reputation with fans.
Via
Eye on Baseball