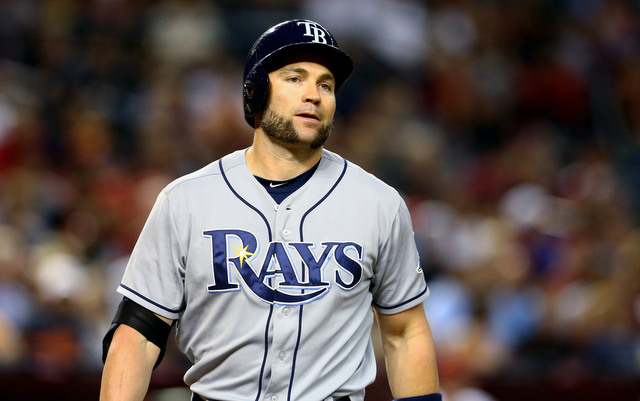 Former big league outfielder Luke Scott is looking for a job after being cut by his team in Korea for allegedly being "disrespectful" towards his manager.
According to the
Korea Times
, the 36-year-old veteran met his demise after calling the aforementioned coach both a "coward" and a "liar." The incident began when Scott got into it with SK Wyverns coach Lee Man-Soo immediately after being placed on the reserve list with a foot injury.
Scott and Lee got into a conversation and Scott eventually gestured and yelled at the coach, using expressions such as "liar" and "coward" to refer to him.
After Lee cut the conversation short and returned to his office, Scott turned to reporters at the stadium and started to blame Lee.
He reportedly said that he is the one who knows his physical condition best, and has had his own "routine" in managing it during his Major League Baseball career. But he argued that the team does not respect that, and just forces its ways on him.
A team official added that Scott's behavior is "not a subject to be tolerated ... It seems he was disgruntled with being listed on the reserve team."
Scott batted .267 with six home runs for the team. He was previously playing under the terms of a one-year contract worth $300,000.
Before Korea, the Florida native played parts of nine major league seasons with the likes of Houston, Baltimore, and Tampa Bay.
Via
Eye on Baseball