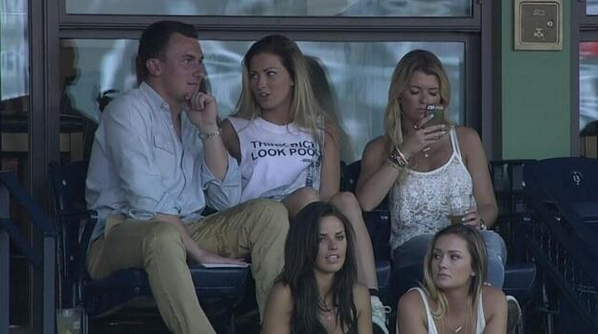 Charles Barkley has some sage advice for Johnny Manziel.
On Wednesday, the former NBA player appeared on the Bull and Fox Show on WKRK-FM in Cleveland where he said that Manziel is too immature to handle fame. Barkley also urged Manziel to tone it down with the selfies.
"You should never take selfies of yourself doing anything that can be considered stupid," Barkley said. "And that's probably the only problem I have with Johnny Manziel. Most of his pictures are selfies, and that tells me he's just too immature to handle this fame thing right now."
Aside from not taking selfies, Barkley also said that Manziel should consider avoiding taking pictures at all. Especially when the source of those pictures are from the cameras of friends.
"I think he has to be careful. Johnny has to understand, everybody has a cell phone," Barkley said. "You have to be careful when you're out in public. The only problem I have with Johnny Manziel is him and his friends are always taking pictures… Somebody might get [a picture of me], but it won't be one of my friends. I don't allow my friends to take pictures when they're with me."
Although Manziel hasn't run into any legal trouble during his busy offseason, his Browns teammates, coaches, and front office personnel have to be getting worn out of the coverage that has surrounded him. In a matter of months, Manziel has been seen riding an inflatable swan, hanging out with Justin Bieber, flashing money in Las Vegas, and doing something precarious in an Austin, Texas bathroom, among others.
Via
Eye on Football