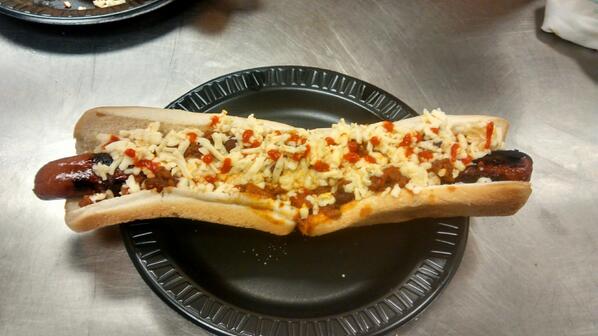 Johnny Manziel has often been referred to as a "hot dog" for his on and off the field antics. And now his status as a hot dog has been immortalized by the Akron Rubber Ducks after the minor league club introduced "Johnny Footlong" to their stadium menu last weekend.
The Johnny Footlong features an eight-ounce hot dog with Texas Jack chili, shredded pepper jack cheese and Sriracha sauce, all squeezed into a footlong bun. If that doesn't sound like a recipe for heartburn, I don't know what does. Additionally, this sounds like one messy dish to devour within the narrow spaces of a minor league stadium seat. Nonetheless, it still probably tastes awesome.
"Johnny Football mania is in full swing at Canal Park, and we are excited to have a food & beverage offering dedicated to the new Browns Quarterback. It's an exciting time for the Akron and Cleveland area," RubberDucks' General Manager Jim Pfander said in a press release.
Via
For the Win