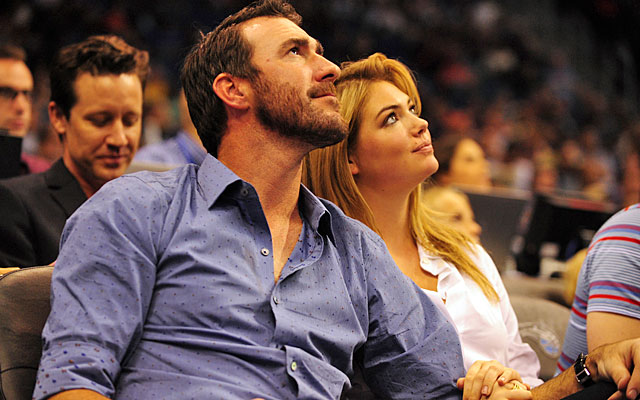 Justin Verlander's performance has been steadily declining since posting historic numbers in 2011 en route to winning both the American League Cy Young and MVP Awards. Part of the blame for this has been cast on Verlander's increasing age (31). Others point to his drop of velocity and blame the amazing amount of pitches he's thrown over the last decade. And then some blame Verlander's pitching woes on the fact he's dating supermodel Kate Upton.
The following is an excerpt from the
New York Post
:
The most frequent explanations for the sudden woes of the Detroit Tigers ace this season concern his declining fastball velocity or a possible undiagnosed physical ailment.
But what if the problem has nothing to do with his right arm and everything to do with the buxom blonde on his arm?
If Verlander has been jinxed — or distracted, more likely — into the worst stretch of his career by girlfriend Kate Upton, it would not be the first time an athlete had encountered a major slump around the time he was romantically linked with the swimsuit pin-up.
Well, it's not the worst theory in the world. But I'd venture to say it's likely not the cause of Verlander's troubles either. If anything, Upton should be enhancing Verlander's wizardry on the bump. Not diminishing it.
What do you think?
Via
Eye on Baseball
(Photo: USATI)