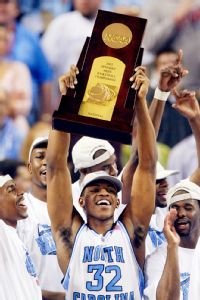 The second-leading scorer on North Carolina's 2005 men's basketball national title team recently told ESPN's "Outside the Lines" that he made straight-A grades in classes that only required one paper to pass. Rashad McCants also added that he rarely went to class, tutors wrote papers for him, and he remained eligible only because he enrolled in sham classes that were specially designed to keep student-athletes academically eligible.
Here's more on the allegations from
ESPN.com
:
McCants told "Outside the Lines" that he could have been academically ineligible to play during the championship season had he not been provided the assistance. Further, he said head basketball coach Roy Williams knew about the "paper-class" system at UNC. The so-called paper classes didn't require students to go to class; rather, students were required to submit only one term paper to receive a grade.
McCants also told "Outside the Lines" that he even made the Dean's List in Spring 2005 despite not attending any of his four classes for which he received straight-A grades. He said advisers and tutors who worked with the basketball program steered him to take the paper classes within the African-American Studies program.
The claims are very similar to the ones first brought to light by the
Raleigh News & Observer
in 2011. These reports of widespread academic fraud eventually led to NCAA sanctions on the UNC football program. But the rest of the athletic department was relatively unscathed.
As a guy who worked hard to earn a college degree, the allegations posed here by McCants are deeply troubling and unfortunately represent a troubling culture in major college athletics. North Carolina surely isn't the first school to engage in such unethical academic practices.
McCants confesses he thought the situation was the norm for college athletes.
"I thought it was a part of the college experience, just like watching it on a movie from 'He Got Game' or 'Blue Chips,'" McCants said. "... when you get to college, you don't go to class, you don't do nothing, you just show up and play. That's exactly how it was, you know, and I think that was the tradition of college basketball, or college, period, any sport. You're not there to get an education, though they tell you that.
"You're there to make revenue for the college. You're there to put fans in the seats. You're there to bring prestige to the university by winning games."
McCants left Chapel Hill after his junior year in favor of playing four seasons in the NBA. From there, McCants continued his professional career overseas. The ex-Tar Heels star says he's planning to write a book about his basketball and collegiate experience, which promises to provide more insight on the way he was treated at UNC.