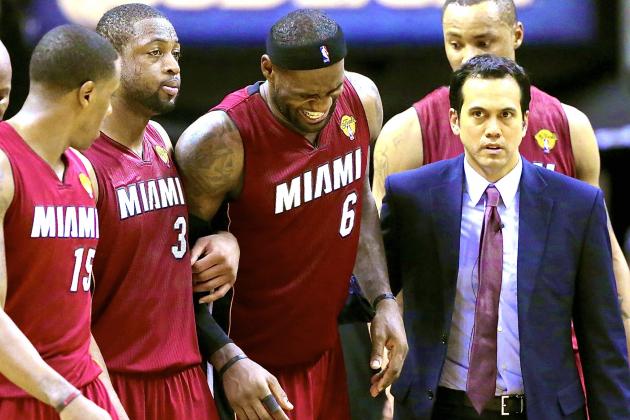 The story from Game 1 of the NBA Finals was more about LeBron James cramping up near the end of the game rather than the Spurs pulling out a win over the Heat.
An electrical malfunction caused the air conditioning inside the AT&T Center to shutdown and led to temperatures soaring above 90 degrees. This wreaked havoc on both the fans and players, but one can argue none so than James.
While enduring such extreme conditions cannot be taken lightly, NBA legend Dominique Wilkins says he believes the media made a big deal about it and claims he played multiple times in buildings that were in excess of 90 degrees.
"I think the media kind of blew it way out of proportion," he told USA TODAY Sports. "It wasn't that big of a deal. I played in temperatures that exceeded 90s in buildings. Like I said, they now know what it's like to play in Boston because the Boston Garden had no air. No air at all.
But again, you have to make adjustments," said Wilkins. "Like you have to make adjustments about your health. You have to make adjustments in basketball. If you look at it everyone played under those conditions...But I think people make too big of a deal about air the going out. You still have to play."
Wilkins did admit that everyone cramps up from time to time. But added that players must learn to do whatever possible to adjust when cramps occur.
"Look we all cramp," Wilkins said. "I had cramps many times. Unfortunately those things happen you just have to find a way or you have to be able to adjust to your body and be it hydrate yourself."
Via
For the Win