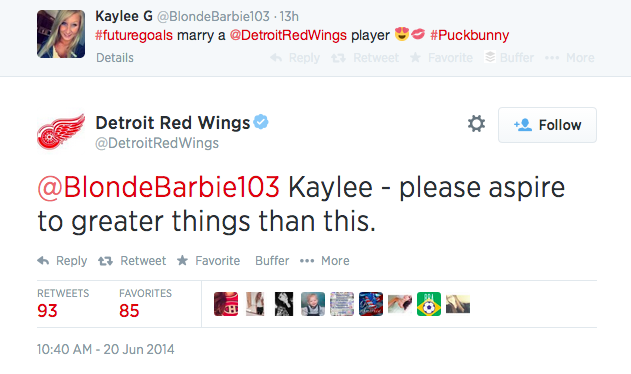 The Detroit Red Wings expect greatness from everyone of us and they won't accept anything less.
Case in point comes courtesy of a Twitter user, listed as Kaylee G (@BloneBarbie103), who probably wrote in jest that one of her future goals was to marry a Red Wings player.
To her surprise, the Red Wings not only responded, but proceeded to teach her a life lesson as well. From there, other Twitter users opted to mock her, but the Red Wings stayed the course and clarified their point with the following tweet.
@albidonez You'd be surprised. Girls & boys need to be taught that a woman has more value than her physical appearance. @BlondeBarbie103
— Detroit Red Wings (@DetroitRedWings) June 20, 2014
The fan has since deleted her tweet and removed her name and photo from the account. But the story lives on because the internet is forever.
Via
Bleacher Report