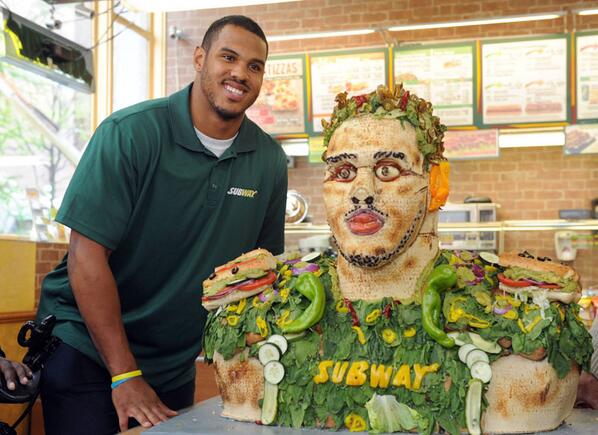 Anthony Barr has a lot to be excited about these days. On Thursday, the former UCLA linebacker is expected to be picked among the top 15 selections in the NFL Draft. And as if that wasn't already enough, Subway has produced an edible sculpture in his likeness as well.
Each year, Subway commissions a bust to be made in honor of their Famous Fan. This year's honoree was Barr and the end result is both glorious and delicious-looking.
The sculpture, as you can see, is made entirely of vegetables that can be found (or not found) on a footlong sub sandwich. Seen here is Barr posing with it at a Subway restaurant in Manhattan.
"It's awesome," Barr said. "When they first asked me about it, I said, 'Oh yeah, that'd be cool,' but I didn't know what to expect. Now, I see this giant sculpture that looks just like me made out of veggies; it is spot on. I feel like I am finally and officially a part of the family."
Barr joins Ndamukong Suh, Mark Ingram, Robert Griffin III and Jarvis Jones as having Subway busts made in their image.
Via
Boston Herald