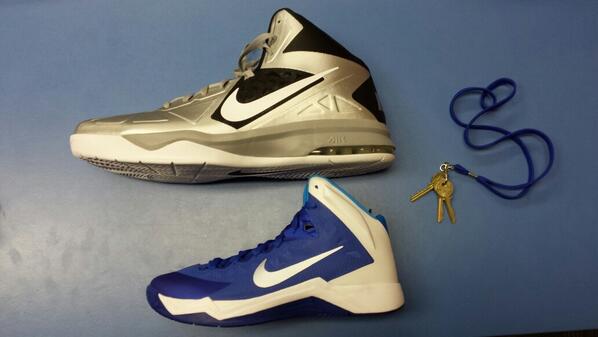 The Kentucky Wildcats have had some outstanding players come through the basketball program over the years. But no player has ever possessed a shoe size as big as Karl-Anthony Towns.
According to the UK equipment staff's official Twitter account, the size 20 shoes ordered for Towns is the largest pair ever required from a student athlete. Well, at least since the school has been sponsored by Nike.
More on the story from the
Courier-Journal:
Towns' shoes are the largest the Wildcats' staff has ever had to order, at least in the Nike era, for summer practices. And that minuscule shoe next to the 20? Just your average 10 1/2.
The New Jersey native Towns is just one piece of a team guaranteed to be the biggest in college basketball next season. Along with Towns, who stands at 7-feet, the Wildcats have seven players in all 6-8 or taller and three 7-footers — he, Dakari Johnson and Willie Cauley-Stein.
To put Towns' feet into perspective, Shaq reportedly wears a size 22 while Robin and Brook Lopez are believed to have the biggest shoe size in the NBA at the moment with both wearing size 20.
Via
For the Win