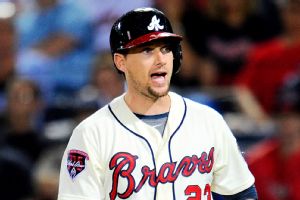 Atlanta Braves third basemen Chris Johnson let anger get the best of him Friday night when he was removed from the game by manager Fredi Gonzalez due to throwing a temper tantrum.
The incident which sparked the outburst occurred in the second inning when Johnson went down on strikes to Rockies hurler Jordan Lyles. This fueled Johnson to go crazy in the tunnel leading to Atlanta's clubhouse.
To his credit, Johnson apologized for his behavior after the game.
"I apologized to the team about that after the game and to Pena for having to pick me up," Johnson told reporters, according to The Atlanta Journal-Constitution. "I'm sorry to the fans, people who came out to watch me play today. That's just one of my demons. That's one of those things I've got to try to get through and get better at.
"It's like getting tossed out of a game in the first inning. Pena has to go in and get ambushed and the team doesn't know what's going on, and I let my emotions get the best of me. First and foremost I wanted to talk to the team and let them know that I was deeply sorry for that and that I was going to work my butt off to fix that part of my game."
Johnson added that he agreed "100 percent" with Gonzalez's decision to bench him and that he'll take the punishment "like a man and try to get better at it."
Apparently, Johnson is no stranger to moments such as this one. He was benched for two games earlier this year after erupting following a pair of four-strikeout games.
Via
ESPN