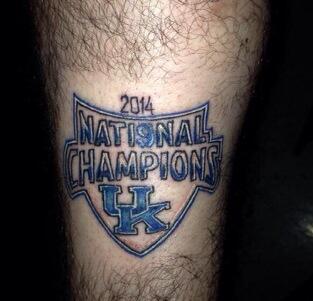 The Kentucky Wildcats fell just shy of making super fan Tyler Austin Black a prophet after losing to the Connecticut Huskies in the national title game.
The defeat essentially left Black with a decision to make about the infamous tattoo he got inked on his right calf before the tournament which reads, "2014 Nati9nal Champions."
According to
ESPN.com
, the 22-year-old fan says he will keep the $80 tattoo as "a way to remember this team" and to also keep it as "part of my life story."
To Black's credit, nobody outside the Bluegrass gave the Wildcats much of a chance to advance beyond the Round of 32, where they upset undefeated Witchita State to earn a place in the Sweet 16. From there, they eliminated defending national champion Louisville, national runner-up Michigan, and Wisconsin en route to earning a spot in the national championship game.
Black says he picked up hundreds of Twitter followers throughout the tournament from people hoping to see his reaction if/when the Cats finally lost.
"It didn't really bother me that much," Black said. "I know people outside of Kentucky can't stand us."

The Huskies improved to a perfect 4-0 in national title games on Monday. Meanwhile, John Calipari's program fell to 8-4 all-time.