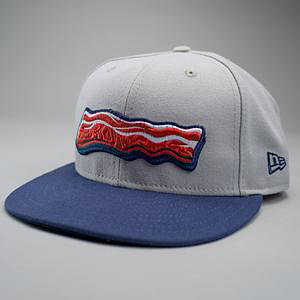 One word can appropriately describe the Lehigh Valley IronPigs' decision to incorporate bacon into its merchandise: ingenious.
According to
Darren Rovell of ESPN.com
, sales of the merchandise is off to a "sizzling" start since the team announced it would don bacon-themed uniforms for Saturday home games this season. The uniforms will feature a wavy strip of bacon on the caps, jerseys and pants.
As it stands now, the Triple-A affiliate of the Phillies has sold nearly 3,300 bacon hats and 1,500 scratch-and-sniff t-shirts, which promise to hold their bacon smell through at least 10 trips in the washing machine.
"People clearly love bacon and baseball, and we just hit a nerve by putting it together on our official gear," said Kurt Landes, the team's president and general manager. "We had orders from all 50 states in the first 36 hours."
The IronPigs have already sold so many hats that it will be downright improbable for any minor league team to outsell them in 2014.
The bacon-inspired fun goes well beyond the uniforms though. The team will also sell bacon-flavored cotton candy and offer bacon crumbles on all concession items if a fan desires.