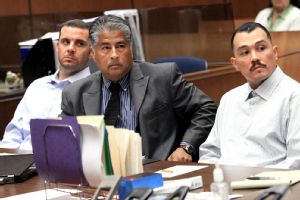 Nearly three years after the incident took place, the two Dodgers fans responsible for the brutal beating of Giants fan Bryan Stow have plead guilty.
From
ESPN.com
Defendant Marvin Norwood pleaded guilty to one count of assault likely to produce great bodily injury. Co-defendant Louie Sanchez, saying he kicked and punched Stow, pleaded guilty to one count of mayhem that disabled and disfigured the victim. Both were to be sentenced after a judge heard victim impact statements.
Norwood was sentenced to four years behind bars while Sanchez was sentenced to eight. In my opinion, neither is enough to serve justice for the damage they caused Stow and his family.
From
SFGate.com:
Sanchez pleaded guilty to felony mayhem for hitting Stow, a 45-year-old paramedic and father of two from Santa Cruz, with a sucker-punch that caused him to fall back unconscious, slam his head on the pavement and suffer a near-fatal brain injury. He was sentenced to eight years in prison.Norwood got four years in prison for felony assault. Other charges were dropped in the plea deal.
Stow remains severely disabled and requires around-the-clock medical attention and constant medication as result of the attack.
The incident took place in a parking lot outside Dodger Stadium following Opening Day in 2011.