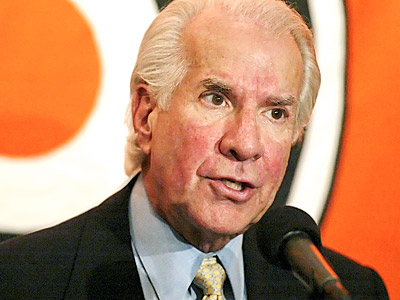 The NHL regular season is heading into a temporary break due to the Winter Olympics in Sochi. And it's a break that Philadelphia Flyers Ed Snider chairman absolutely loathes.
Speaking to Dan Gelston of the Associated Press, Snider said he "hates" the Olympic break, and added that the whole idea of a three-week furlough is "ridiculous."
"It's ridiculous, the whole thing is ridiculous. I don't care if it was in Philadelphia, I wouldn't want to break up the league. I think it's ridiculous to take three weeks off, or however long it is, in the middle of the season. It screws up everything. .. How can anybody be happy breaking up their season. No other league does it, why should we? There's no benefit to us whatsoever. If anything, I can only see negatives."
It should be noted that Philly did make it to the Stanley Cup during the last Winter Olympics in 2010. So, perhaps the timing of it all isn't such a bad thing for the Flyers, who are fighting to stay in the playoff race.
Via
AP
(Photo Credit: AP)