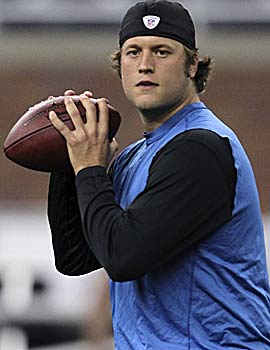 Matthew Stafford has the admiration of Mike Ditka when it comes to his playing ability. But the same cannot be said for the way Stafford wears his hats.
"I think he can make all the throws," Ditka, an ESPN analyst, told the Free Press. "He's a smart kid. I wish he'd put the baseball cap on frontwards instead of backwards all the time."
Do you care to expand on that, coach?
"If you're the leader of the football team, I think you've got to stand up and be that leader, assume that role. A lot of it is what you do on the field, certainly. But I think a little of it has to do with appearance, too," Stafford told the Free Press. "You know, respect the game respect your team. That's all.
"I'm not knocking him. I'm just saying that's the first thing I would tell him if I inherited him. When you're going to go do an interview, put it on like it's supposed to be on, not backwards, sidewards, whatever way they put them on anymore."
Ditka's remarks
sound very similar
to the way former Yankees manager Buck Showalter complained about the way Ken Griffey Jr. wore his hat in the 1990s. Different sport, of course, but similar circumstances.
I think it's a pretty petty argument if you ask me. The same guys who get their feathers ruffled over hats are also the ones constantly yelling at kids for stepping foot into their yard.
Via
Pro Football Talk
(Photo: Getty Images)