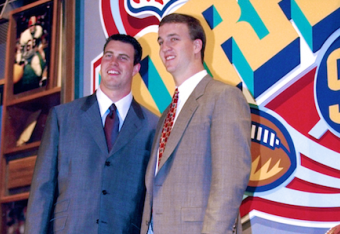 What if Ryan Leaf had been drafted No. 1 overall by the Indianapolis Colts in 1998?
According to Leaf's former agent, Leigh Steinberg, who is releasing a tell-all book entitled "The Agent," Leaf purposefully rigged the draft so that the Colts would be willing to select Peyton Manning, instead. Seriously.
Leaf has drawn plenty of negative attention to himself over the years by acting in strange and unorthodox ways. And it appears he has been doing so since before that fateful draft.
Here is an excerpt taken from Steinberg's new book:
"No way do I want to play in Indianapolis," he told me, referring to the Colts, who owned the No. 1 pick. Instead, because of the exceptional weather and the more laid-back lifestyle, he preferred the San Diego Chargers, who would go second.
"That's fine," I warned him, "but the way to achieve this is not exactly going to help your image. You'll get a lot of criticism." Ryan didn't care about his image, though, only his destination."
So, how did Leaf go about making the Colts hesitant to draft him? Well, by skipping a meeting with then-Colts head coach Jim Mora.
"If you go to the combine," I told Ryan, "but fail to show up for a meeting with Mora, that should do it. Jim is a real prideful person who has a tendency to explode. I am not recommending you do this, but if you are desperate to go to San Diego, this is the way."
Once Ryan was a no-show, Mora, as anticipated, went ballistic. I defended my player, naturally, dismissing the coach's response as another Mora meltdown. As I'd anticipated, Ryan was criticized, but the plan achieved its purpose. The Colts took Manning. Something tells me the folks in Indianapolis have never regretted that decision."
The rest is history, obviously.
Do you buy Steinberg's story about Leaf allegedly rigging the draft?
Via
Bleacher Report
Photo Credit: Getty Images