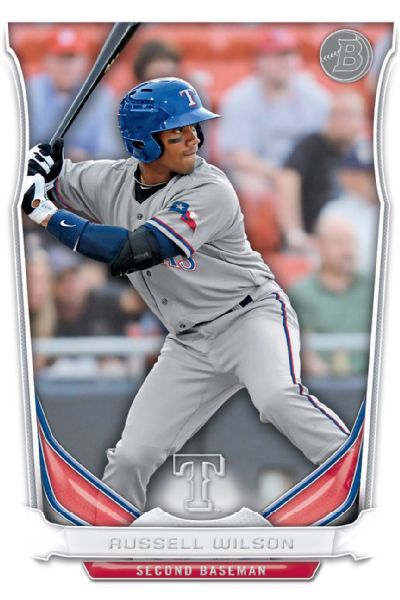 Although it's highly improbable Russell Wilson ever sets foot on a Major League Baseball diamond as a player, Topps has decided to feature Wilson on his very own baseball card, anyway.
You may remember that Wilson was chosen by the Texas Rangers in MLB's Rule 5 draft in December. It took $12,000 for Texas to make the pick even though they know all too well that the Seahawks quarterback will likely stick with football.
In spite of this fact, as you can see above, Wilson will be shown at the plate donning a Rangers uniform, as part of Topps' Bowman series, which is reserved for prospects. Naturally, it will be a limited edition card.
"Sports fans have always been fascinated by the two-sport star," Topps vice president of product development Clay Luraschi said. "When you talk to fans about amazing athletes, you always hear the name Bo Jackson come up. And whenever you have an athlete that could potentially be a two-sport star, there's always a lot of buzz about him.
"Will he ever play for the Rangers? We don't know. But we thought we'd make a card to let people know what it would look like if he did."
Amazingly, this won't be the first time Wilson has appeared on a baseball card. He also had his own card as part of the Bowman Draft and Topps Pro Debut Series in 2010. Wilson wore a Colorado Rockies uniform on that card after being drafted in the fourth round by the franchise.
Wilson spent parts of the 2010 and 2011 seasons in Single-A ball for Colorado where he hit .229 with five home runs and 19 stolen bases while playing second base.
It goes without saying, but as Wilson prepares to take on Peyton Manning in the Super Bowl on Sunday, I think the 25-year-old made a good choice with football.
Via
ESPN Dallas