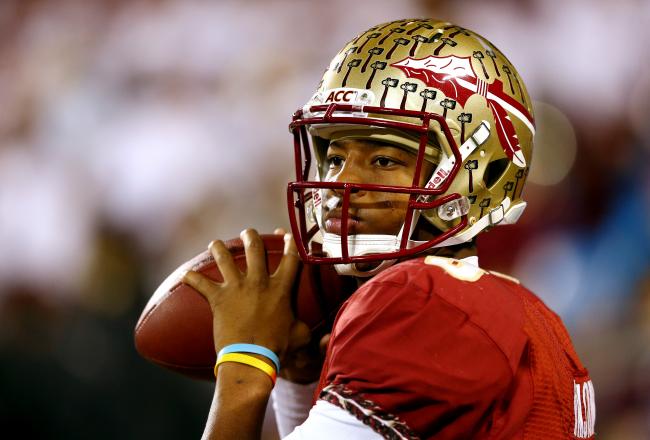 Multiple sport athletes have become a dying breed over the last decade. But Jameis Winston wants to help change that by playing both football and baseball professionally someday. Namely, playing quarterback in the NFL while singling out the Atlanta Braves or New York Yankees as his MLB landing spot.
Here is what Winston had to say about the matter during a BCS National Championship Game media session on Friday:
"You can do anything you put your mind to. A lot of people are going to say, no way, he's a quarterback, Bo Jackson was a running back. But if I put my mind to it -- and the one thing I always seem to do is gain the trust of my teammates -- if I can convince those guys I can be your quarterback and still go play baseball for the Atlanta Braves or New York Yankees."
It should be duly noted that Winston, who is still just 19-years-old, was drafted in the 15th round of the 2012 MLB Draft by the Texas Rangers out of school. So, that coupled with the fact that he just became the second freshman in college football history to win the Heisman certainly makes him a more probable candidate to a dual-sport athlete than most.
You may remember Bo Jackson having similar success on the diamond and gridiron. Winston believes he could follow in Jackson's footsteps one day.
"No one can be Bo Jackson," Winston said. "I mean, the guy if he wouldn't have gotten hurt probably would have been in the Hall of Fame in both baseball and football. So that's something that's unrealistic. But I'm not going to tell myself I can't do that."
The one key difference between Jackson and others who have played both sports professional, like Deion Sanders for example, is that those guys didn't play the quarterback position in the NFL. As a quarterback, Winston has to invest significantly more time into preparation while teams also invest a disproportionate amount of time and money into their signal caller as oppose to other position players.
Can Winston eventually do both one day? The odds are likely against him. But you can definitely never say never.
Via Bleacher Report