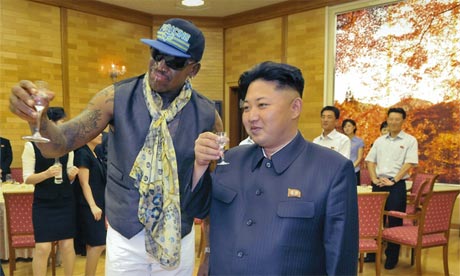 According to a report by the Associated Press, Dennis Rodman is planning to travel to North Korea to help train the country's basketball team.
"Yes, I'm going to North Korea to train the basketball team. I'm going to bring American players over there. Yes I am. I'm going to be the most famous person in the world when you see American people holding hands and hoping the doors can be opened. If they can. If they can. If they can. I'm going. I'm going back for his [Kim Jong Un's] birthday. Special."
Rodman has already famously made two trips to North Korea in this past year alone. The Worm has befriended North Korean supreme leader Kim Jong Un through the common interest of basketball and Rodman hopes that this new bond can help the two nations build friendlier relations with one another.
As for Rodman's ability to coach up the North Korean squad, that remains to be seen, obviously. The North Koreans aren't exactly known for their roundball prowess and it may be an extreme challenge for the Hall of Fame forward to coach the players to where they need to be. Nonetheless, I expect there will be plenty of headlines to tell us how the experiment is going once Rodman makes his way overseas.
Via
Bleacher Report