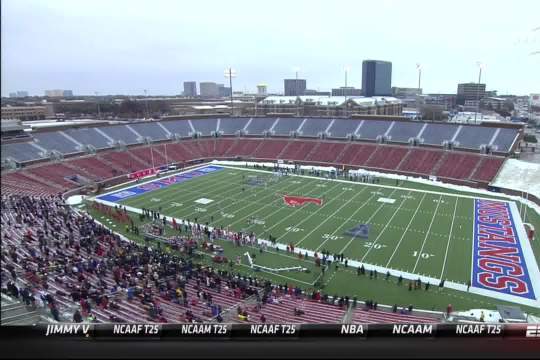 The only thing lower than the temperature for the Central Florida-Southern Methodist game in Dallas was the crowd size.
Despite trying to
lure fans with free tickets and discounted beverages
, attendance for Saturday's game was putrid due to unseasonably cold temperatures and icy conditions. According to
weather.com
, the temperature hovered below 30 degrees for the duration of the frigid contest.
Sure, the American Athletic Conference clash probably wasn't the greatest draw this weekend. But it did have some intrigue. UCF is headed to a BCS game while the Mustangs needed a win in order to be bowl eligible.
Sadly, SMU's bid for bowl eligibility came up short, as Blake Bortles and the Knights snuck past the host team 17-13. Attendance for the game was listed at 12,589. Now, that figure is tickets sold not necessarily the number of braves souls who endured the cold.
Via
Bleacher Report