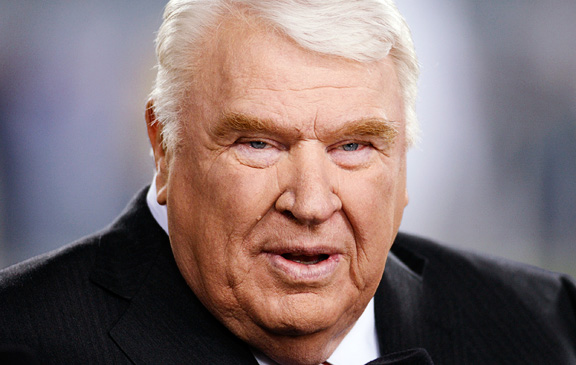 \
John Madden is not a fan of the way Mike Shanahan or the Washington Redskins are handling themselves this season. Namely, the fact that Shanahan has decided to bench quarterback Robert Griffin III for the remainder of the season.
On Wednesday, the Hall of Famer hopped on his weekly segment with SiriusXM NFL Radio and proceeded to call out Shanahan and the Redskins for being "dysfunctional," among other things.
"I think it's a dysfunctional group," Madden said. "I don't understand what they're doing. It's hard to take 'well we're watching out for RGIII's health and his welfare.' You know, if you felt [that way] about his health and welfare, you probably would have done something about it a year ago, or maybe even earlier in the season, when he started the regular season without any preseason practice."
According to Madden, he believes Griffin is the best quarterback on the roster, and if healthy, he should be the one calling the shots under center. Otherwise, the Redskins are doing the rest of the league a disservice by not playing their best players.
"We have an integrity piece here too," Madden said. "You can say well they're 3-10, they're out of it, so now they can do these things. No you can't. This is still regular-season football. Draft order, that's one small thing, but you still owe it to the people that are playing, that are still in the playoff picture. And when you can affect that and you don't affect it with an all-out performance, then I think that affects the integrity of the game... If you're in the regular season, there's only one way to play, and that's to play your best people to win the game, every regular season game."
Hey, when only 16 games comprises the regular season schedule, every game does hold a tremendous amount of weight. So with that being said, Madden is definitely right in his assessment of the situation, in my opinion. For a man who holds a reputation of being relatively mild-mannered, this assertion by Madden should not be something that falls on deaf ears. He is a man whose opinion is worth listening to.
Via
Eye on Football