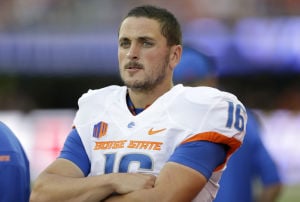 Tuesday's Hawaii Bowl was supposed to be the final game for Boise State senior quarterback Joe Southwick of his college career. However, the maligned signal caller will not be playing in the game after he claims he was wrongfully accused by teammates of urinating off a hotel balcony, thus leading to him being sent back home on Friday.
Southwick spoke out about the incident with the Idaho Statesman over the weekend and alleges that his teammates basically threw him under the proverbial bus. Southwick claims he did nothing wrong and even witnessed the person who was actually guilty of the urination fiasco.
Southwick says he went to bed and was confronted about the situation by his quarterbacks coach the following morning. He was accused and dropped off at the airport by noon on the same day.
"I thought some things through more clearly, about how this probably went down and why I ended up getting accused and not the other person, through the power of numbers," he said. "… I actually reached out multiple times to certain people in the Boise State administration saying hey I'm here until 9, please launch an investigation into this, let's get to the bottom of this, to no avail.
"… I did get a response around 6:30 Hawaiian time. It's about 2 ½ hours away from my flight. All I got was: 'I'm busy, I'm at dinner. If you want to discuss this more, we can discuss it back in Boise.'
"… This was a rushed decision. This was an absolute rushed decision. The decision was probably made in 20 minutes."
Southwick notes that he doesn't want the situation to look like he is going against Boise State, but just wants the truth to be brought to light, and above all have is name removed from any wrongdoing.
Via
Idaho Statesman