The Washington Redskins are a train wreck right now.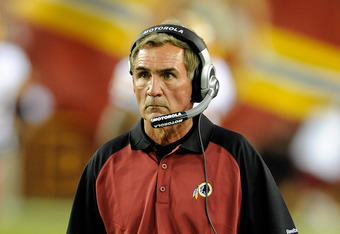 The latest evidence of this comes from former defensive tackle Albert Haynesworth who went on the "Dave Hooker Show" Friday to reveal that Mike Shanahan's contract has a provision in which team owner Daniel Snyder is prohibited from speaking to players.
"That's another thing that I know of, when Shanahan signed his deal, he made it to where he has in his contract where [Snyder] can't talk to players. He can only have short conversations, like, 'Hey how are you?' Things like that.

"I used to talk to Dan and tell him how I'm playing, or what I'm trying to do, or whatever. Not that he went down to the coaches or whatever and said anything, just kind of like a friend I'm having a conversation with. And once Shanahan got there, I could never even talk to [Snyder] again.
"He was never in his office, or he was always busy. I always had to come back or something, which never amounted to me ever talking to him. I mean, the only time I talked to him or saw him was when my brother passed, and he was there for my family and flew us to Nashville and to South Carolina for my brother's funeral. That was really the only time I'd seen Mr. Snyder."
It's important to take these comments from Haynesworth with a grain of salt. The maligned Haynesworth didn't exactly end on good terms in D.C. and has developed a reputation for being a relative bad egg.
However, given Shanahan's recent benching of Robert Griffin III, much to the chagrin of those surrounding him, it's safe to assume the winds of change will blow in Washington soon.