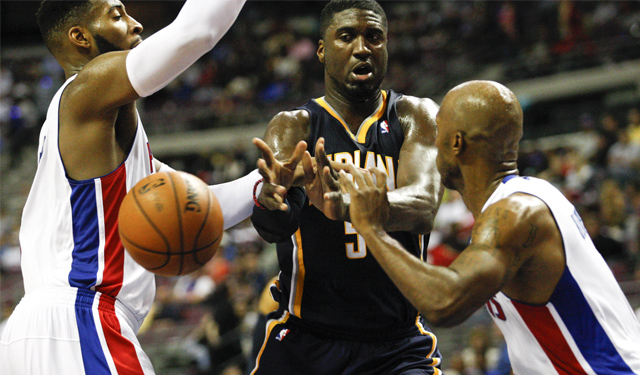 Roy Hibbert is no longer a fan of Detroit Pistons big man Andre Drummond after Hibbert claims his counterpart did way too much trash talking during their game Tuesday.
The Indiana Pacers star made his view perfectly clear to
DetroitNews.com
afterward:
"To tell you the truth I was a fan of his until tonight," Hibbert said Tuesday. "He is a real good prospect, but it seemed like he was running his mouth a little bit tonight. He has a tremendous future, but I was a fan of his. I thought he was supposed to have a breakout year this year. Best of luck to him. He can dunk the ball real well and he can block shots and he can rebound. He is going to have a bright future — but I was a fan of his."
Hibbert doesn't like yapping on the court. Drummond knows that and admits to trying to agitate him. It was nothing personal. He was simply doing his job and does not care that his fan club lost a member.
"If I lost a fan, I can't be mad about it," Drummond said. "If he complained about me talking, that is part of the game. I'm doing what I can do to get in his head, and it obviously worked because he noticed. So I was just trying to play my game and get into his."
In all honesty, it's hard to see why Hibbert took so much offense to the jib jab, especially after Drummond basically admitted to doing it because he needed to gain an edge. But kudos to Hibbert for not relegating himself to getting in a war of words, too.
Nonetheless, Hibbert finished the physical affair with eight points, 10 rebounds, and seven blocks in Indiana's victory. So, I guess you could say he had the final word in the encounter.
Via
Eye on Basketball