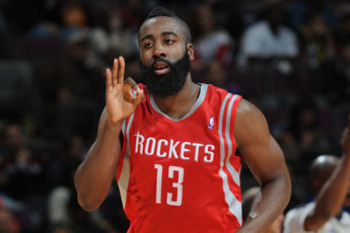 James Harden may be facing a legal battle soon after a TMZ report claims that he allegedly punched a Lakers fan in the face.
The incident occurred outside of a night club in Los Angeles earlier this month.
More on the story from
TMZ
:
According to the lawsuit, Harden was on his way out of Greystone Manor nightclub in West Hollywood November 3rd -- riding in the back seat of some SUV -- when he rolled the window down to greet fans.
That's when a man named Barak Golan says he shouted at Harden, "Kobe owns your ass!" and Harden allegedly socked him in the face.
But Harden wasn't done ... Barak says the Rockets guard flipped him off as his SUV sped away.
Barak is now suing for assault and battery, demanding unspecified damages. Harden's reps had no comment.
In all honesty, part of the blame for this situation should fall on the fan, who was basically asking for it after shouting the vulgar insult in Harden's face. However, it definitely doesn't give Harden the right to resort to physical confrontation.
Being that Harden has become one of the faces of the NBA, the league won't be happy about one of its stars being connected to a story like this. Whether the lawsuit moves forward or not, Harden has already suffered some negative publicity because of it, which is a shame because he has been playing so well on the court lately. Entering Wednesday, Harden led the team in points (24.3) and assists (5.2), while guiding the Rockets to three straight wins.
Via
Bleacher Report