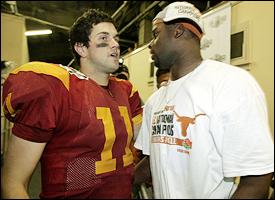 There have been many great quarterbacks to come through college football over the years. Nebraska's Tommie Frazier, Florida's Danny Wuerffel, Boston College's Doug Flutie, and Stanford's John Elway are just a tip of the iceberg when it comes to great collegiate signal callers.
However, when it comes to which one is the greatest, former USC Trojans quarterback Matt Leinart, who had a pretty successful college career in his own right, says we should look no further than Texas' Vince Young.
"My USC faithful is going to be mad at me, but I gotta say Vince Young," Leinart said on a Fox Sports talk show. "And the only reason why, you look at his stats and his stats are staggering. He's over 6,000 passing yards, over 3,000 rushing yards so he could do both things.
"For me, I personally witnessed him take away my quest for a third national championship. We had a great defense and nothing against our team, but he single-handedly beat us in the national championship game."
Yes, he did. Young's performance in the 2006 Rose Bowl was legendary, as he notched 267 yards through the air and 200 more on the ground, leading the Longhorns to a relative upset over the Trojans.
But should Young really be considered the best college quarterback ever?
Via
Houston Chronicle