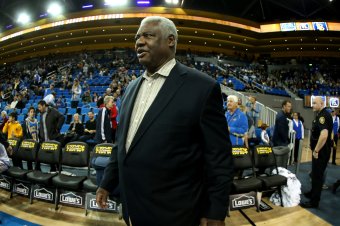 If you ask someone in modern society who they believe is the best basketball player of all-time, chances are they will respond with either Michael Jordan, LeBron James, or Kobe Bryant.
But not everyone would subscribe to those names, though.
In a recent interview with Colin Cowherd on ESPN Radio, former Los Angeles Lakers great Kareem Abdul-Jabbar was asked by Cowherd about the greatest to ever play the game, and his response did include Jordan and James, but just not in the manner you would imagine.
"LeBron is awesome, MJ was awesome—but I think Oscar Robertson would have kicked them both in the behind Absolutely. Oscar was awesome. He had brains. [...] He had all the skills.He could rebound and box out guys four and six inches taller than him. He was ruggedly built. He had fluid, quickness and just understood the game. No flair, he just got the job done every night. Who's going to average double figures in points, assists and rebounds?"
I suppose you could do far worse that dubbing Robertson the best of all-time. After all, the Big O averaged 9.5 assists and 7.5 rebounds per game during his career, both of which are better than the career totals of James and Jordan in those categories. His 25.7 points per game isn't too shabby, either.