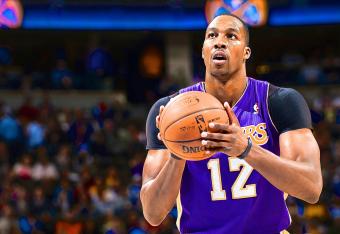 Dwight Howard may have a solution to his horrific free throw shooting.
Apparently, the Houston Rockets center recently beat teammate James Harden, a career 84.2 percent free-throw shooter, in an eyes-closed free-throw shooting contest by nailing 8 of 10 shots.
Now, Howard, a career 57.5 percent free-throw shooter, is seriously considering the eyes-closed approach on a permanent basis.
"There is a guy who has the world record for most free throws made and he told me to do that drill and it's good for trusting your form," Howard said, according to the Houston Chronicle. "You can't see nothing, so you have to trust your form and trust that it goes in."
For the record, Howard is aiming to shoot at least 75 percent from the line this season. If he can do it with both eyes closed that would be amazing.
Via
Bleacher Report