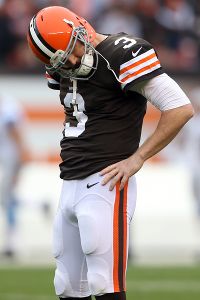 Apparently, the Cleveland Browns quarterback job is up for grabs on Craigslist.
Despite Brandon Weeden being firmly planted as the starter, a Craigslist ad suggest the Browns are looking for a replacement, and the post itself is pretty humorous.
Have you played pro football?" asks the ad that 22-year-old Seth Pae, a graduate student at DePaul, took credit for posting. "College ball? High school? Pee-wee?
"Have you played Madden before? Do you know some of the rules of football? If yes, keep reading."
And if no?
"... well also keep reading!" the ad reads. "We will take ANYONE!"
Cleveland has used 19 starting quarterbacks and has produced just one playoff appearance since 1999. So, you can only imagine how desperate Browns fans are to find a long-term solution.
From ESPN:
The Craigslist ad is just the latest quip. Pae, a Hudson, Ohio, native who is studying classical music and the viola, took credit for the ad and said it was a result of frustration.
"I was blowing off steam," Pae said. "We've had like 396 quarterbacks since 1999. It's a bit much. We're still looking for 'the one.' I feel like we're the Ted Mosby of football teams; we're still looking for the one."
Pae's reference to Mosby is from the popular TV show "How I Met Your Mother," in which one of the stars is constantly searching for the right woman. He said watching the Browns is like watching the show over and over as the team tries to find a quarterback.
The play that sent Pae over the edge?
"That one interception where [Weeden] flung the ball forward," Pae said. "I watched video of it a couple times, and I saw two wide receivers wide open. ... He decided to shovel pass it to nobody."
The ad has the location of the Browns' facility in Berea, Ohio, listed with a map to the site. It has the team's address and lists the compensation at $125,000 per week.
"If you're sick of seeing desperation heaves to the sidelines, countless sacks after superb coverage, and underhanded lightly tossed interceptions in the fourth quarter then please come apply!" the ad reads. "If you can throw a ball, come apply! If you can't, come anyway! We can teach you the basics ... throwing the ball to the guy who has the same color shirt as you. Throwing the ball reasonably close to a receiver (who is) WIDE OPEN, throwing the ball more than (three) yards on third and 16."
Part of Pae's listing also stated that "people named Brett" need not apply, an obvious reference to retired signal caller Brett Favre.
"I got about 20 emails about it from people who knew it was me," Pae said. "Most were pretty funny. A couple thought it was serious. I guess that's pretty funny also."
Via
ESPN