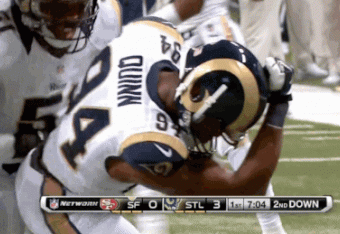 The St. Louis Rams may have taken a 35-11 beating at home against the San Francisco 49ers Thursday night. But at least one member of their team had some fun during the game.
Seen here is Rams defensive end Robert Quinn "Kaepernicking" after recording a sack against 49ers quarterback Colin Kaepernick in the first quarter.
Little did he know that the Rams were about to get outscored 35-8 the rest of the way.
Oh, well. At least he had some fun on this play.
Via
Bleacher Report