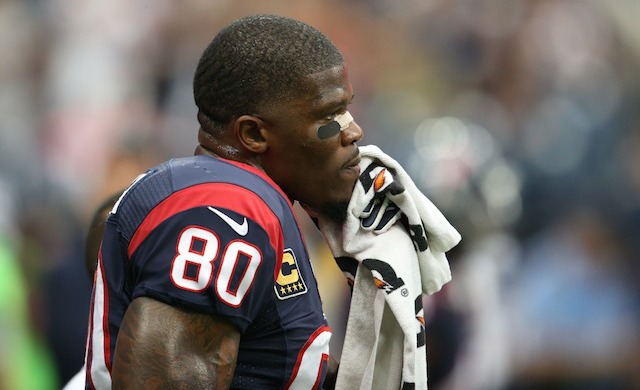 Sunday was not a great day for the Houston Texans.
After jumping out to a 20-3 halftime lead at home over the Seattle Seahawks, Houston wound up losing 23-20 in overtime, and that had fans really upset.
In fact, after quarterback Matt Schaub threw an interception in the fourth quarter, a slew of boos rained down from the Gilette Stadium stands, prompting receiver Andre Johnson to deliver this comment after the game.
"Fans are going to be fans," Johnson said, via
ESPN.com
. "You have some that are loyal. You have some that are fair-weather, and they only come around when you win. I've been here when it was 2-14 and there was hardly anybody in the stands, so I really don't care about what fans think. A lot of them don't understand what players go through. They can talk about what they want to talk about."
Obviously, Johnson was frustrated with the situation, however, dissing the fans is never a battle you can win as a player, and it's not likely his comment will go over well with Texans fans, either.
Via
Eye on Football