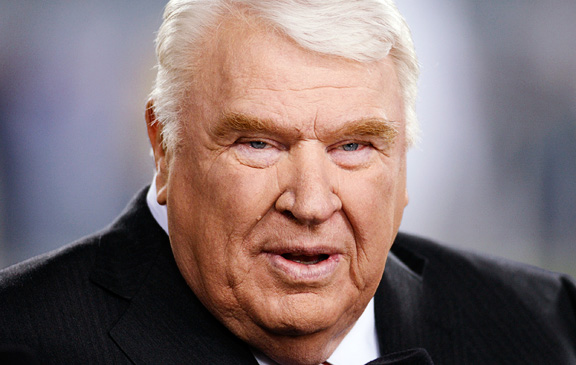 John Madden says the Pro Bowl won't matter until the players competing in the game actually try.
"If they're going to have captains and pick teams and stuff, I think that's minutia — I don't think that means anything," Madden said. "It's still going to be how they play the game. Two years ago it was terrible, and it was embarrassing. Everyone agreed it was embarrassing, including the players who played in it. Something had to be done. It couldn't go on that way. Last year I thought they played a little harder. Whether you have captains and you pick or whatever, it's still going to boil down to how they play the game."
The 77-year-old knows a thing or two about the NFL. Madden compiled a 112-39-7 overall record as head coach for the Oakland Raiders from 1969-78, including a victory in Super Bowl XI. He then went on to become a color commentator for NFL telecasts, in addition to being the face of the most successful football video game franchise of all-time.
Madden, who was inducted into the Pro Football Hall of Fame in 2006, acknowledged the fact that players have every right to try and avoid injury in the Pro Bowl, but also said those players should steer clear of the game if they feel that way.
"I understand the reasons they don't — if you get through a season and you're healthy and you want to stay that way, there are a lot of reasons," Madden said. "But if those reasons become too strong then we probably ought to consider doing away with the Pro Bowl."
The NFL made a change to the game this week by announcing that the teams will be selected by captains instead of the traditional AFC and NFC format. However, the move will be in vain unless players actually compete on the field.
Via
Pro Football Talk