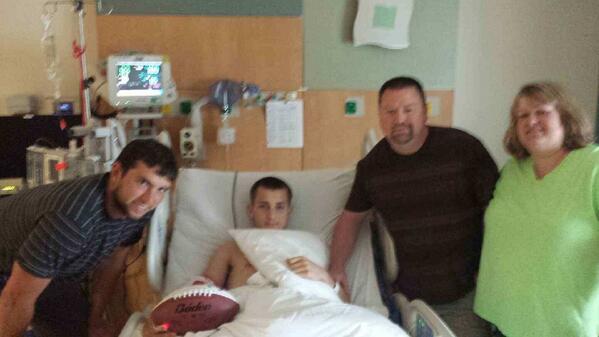 Edinburgh High School (Ind.) football player Steven Bailey has had a rough go of it over the past several days.
On Friday, the sophomore was the recipient of a crushing tackle just before halftime of Edinburgh's game at Manual High. The force of the hit was so significant that it caused Bailey to collapse in the locker room and require an urgent trip to a local hospital by his parents.
Once her arrived, doctors discovered that Bailey was bleeding internally, and had lost about a quart of blood. The 15-year-old received an emergency blood transfusion and was airlifted to another Indianapolis-area hospital.
All in all, Bailey sustained a ruptured spleen, a lacerated kidney, and a punctured lung from the incident. Doctors believe Bailey could leave the hospital as soon as Thursday, however, he won't be returning to the field anytime this season.
Naturally, the high schooler was in need of some support over the weekend, and he urged people to come visit him in the hospital via Twitter.
Colts quarterback Andrew Luck apparently saw Bailey's tweet and did just that.
Luck visited with Bailey, snapped a few photos, and autographed a football before he went on his merry way.
As for Bailey, he hopes to return to the field in 2014.
Via
USA TODAY