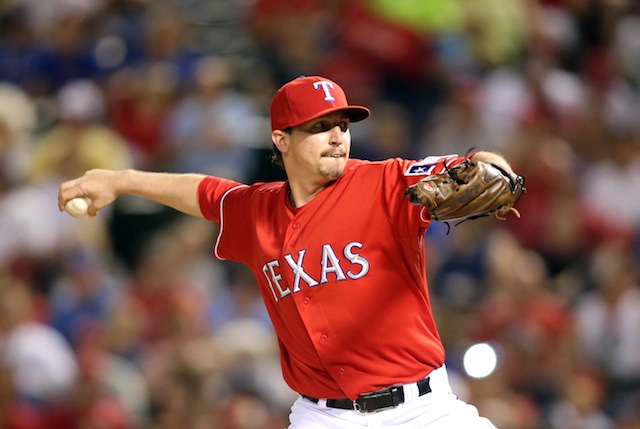 Texas Rangers reliever
Tanner Scheppers
was unable to pitch in an extra-inning loss to the Cleveland Indians on Friday after being jumped and assaulted by a group of young men outside the team hotel Thursday night.
The
Dallas Morning News
has more on the story:
Scheppers said he was out getting food Thursday night when he was attacked and "sucker-punched." He did not recall the time but did contact the police. A report was not filed after Scheppers said police told him it was unlikely that anybody would be apprehended.

"They said it happens a lot, actually," said Scheppers, who had a blackened left eye and two small cuts above his nose. "I'm just lucky nothing serious really happened. I'm good to pitch for (Saturday). I was in the wrong place at the wrong time."
Wait, what?
Did Scheppers just say getting mugged on the streets in Cleveland "happens a lot" among visiting players? If true, this is extremely disturbing, especially when you consider that Scheppers is no small man himself. At 6-foot-4 and 200 pounds, he should be more than able to handle his business. Well, unless a group of thugs are going around taking aim at innocent pedestrians.
Update: It appears as though Scheppers may not have been as caught off guard as he said.
A witness who saw the incident that left the reliever with a black eye and headaches refuted Scheppers' claim that he was "sucker punched" in Cleveland on Thursday night.
"He lost a bar fight," the witness told
clevescene.com
. "He had 10 chances to walk away before this happened."
In fact, the witness told clevescene.com that Scheppers was a "verbal instigator" in the altercation while accompanied by closer Joe Nathan, catcher A.J. Pierzynski and several women.
If this is the real case of what happened, and we have no reason to believe the witness would lie, then Scheppers probably received exactly what he deserved.
Via
For the Win