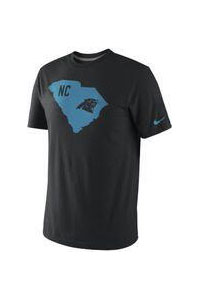 Nike has removed an embarrassing t-shirt from circulation after the company discovered it included a major geographical blunder.
The t-shirt had a Carolina Panthers logo with the letters "NC" inside an outline of the wrong state. The shirt incorrectly featured an outline of South Carolina instead of North Carolina.
"A small quantity of incorrect Carolina Panthers T-shirts were recently made available for sale," said Nike spokesman Brian Strong. "The product should not have been sold. We have removed it from sale and apologize for the error."
It's not the first time the state of North Carolina has been involved in a merchandising snafu. In the spring of 2012, a company called Aggieland Outfitters somehow put the state on a shirt welcoming Texas A&M to the SEC. There are no teams in the SEC located in North Carolina.
Perhaps Nike was just thinking back to 1995 when they made the shirts? The Panthers played their inaugural season in Clemson, S.C. before eventually moving to their current home in Charlotte, N.C. in 1996.
Via
ESPN