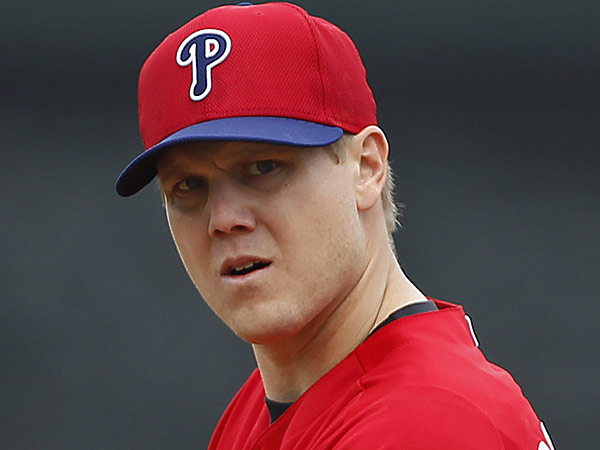 Los Angeles Dodgers sensation
Yasiel Puig
has baseball fans really excited after posting one of the greatest first months by a rookie in the history of baseball.
Naturally, it has also many fans campaigning for Puig to earn a nod in the upcoming All-Star Game, because who doesn't want to see a young, exciting, and talented player compete against the league's best?
Well, apparently not Philadelphia Phillies closer
Jonathan Papelbon
. He went on the air with MLB Network Radio and expressed his opinion on the matter. Namely, how "stupid" it would be if Puig actually was named an All-Star after just breaking into the major leagues.
"To me, it's an absolute joke. It's really kind of stupid if you ask me,"Papelbon said on MLB Network Radio, as he had trouble even saying Puig's name correctly. "The guy's got a month, I don't even think he's got a month in the big leagues, and just comparing him to this and that, and saying he's going to make the all-star team, that's a joke to me. It's just really what happens in baseball when… to me it really does an injustice to the veteran players that have been in the game for eight, nine, ten plus years, and it kind of does them an injustice because they've worked so hard to stay there."
This sounds like jealousy to me.
Papelbon, who is a nine-year veteran and five-time All-Star himself, has a right to be upset about a guy who has stole the spotlight in such a short amount of time, but doing so publicly is just silly.
Besides, the two could very well be teammates on the National League All-Star squad, assuming both earn their way onto the team, of course.
Papelbon is 2-0 with 15 saves and a 2.02 ERA this season.
Meanwhile, Puig is batting a ridiculous .436 with seven home runs and 16 RBI in 101 at-bats. It's not a huge sample size to go off of, and Puig is sure to regress over the next month or so, but you would be hard-pressed to find too many fans who don't think his numbers are impressive.
Except for Papelbon, apparently.
Via
Hardball Talk