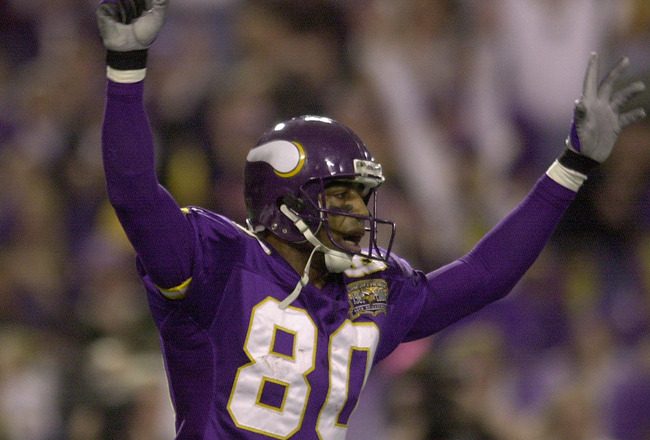 On Saturday, former Minnesota Vikings star wide receiver Cris Carter will officially be inducted into the Pro Football Hall of Fame in Canton, Ohio.
Normally, the days leading up to the Hall of Fame weekend are meant for saying complimentary things about the inductees. However, former Vikings teammate Qadry Ismail decided to buck the protocol on Sunday, and proceeded to call Carter out for being selfish during his playing career.
"To be perfectly honest with you, Cris was a bona fide diva," Ismail told SiriusXM Mad Dog Radio. "That dude would make, as far as his play, some outstanding one-handed grabs in practice to the point where when we got to the game we were just like, people would be like, 'Oh, no!' And we were like, 'Yeah, and? Well, that's just kind of Cris Carter.' However, to me, when I say the greatest guy that I played with was Shannon Sharpe, because he raised the game up for me as a player. I know there would be times when we'd get in the huddle and he'd look over at me and go, 'Q, we need to make a play.' Or whatever it might have been in that moment. And I swear to you it would be like, 'Oh my god, I'm going to make a play because Shannon just called me out.' And sure enough, boom, it would be there. Shannon was that kind of a guy that you just knew that he was in your corner. You couldn't say the same thing for Cris Carter. You couldn't say the same thing as far as his attitude towards his teammates. You couldn't say the same thing as far as his attitude as far as the coaching staff. You knew that he had a selfishness to him that was an extreme selfishness."
Ouch. Those are pretty harsh words coming from a player who once played alongside Carter. But Ismail didn't stop there, though.
"Could he flat out make catches? Absolutely. Could he flat out make plays? Absolutely. But there's a reason why they didn't go all the way and win Super Bowls," Ismail said. "There's a reason why, that his talent was good, but when you talk about Jerry Rice talent you also talk about that team elevating it to the next level to win championships. When you talk about Shannon's talent you are talking about that team elevating and winning championships. When you are talking about talent, there's one thing to have talent but, to me, if you're a complete, amazing football player, others around you rise up to whatever their level of talent is."
So, the bottom line here is that Carter was allegedly all about himself, at least according to Ismail.
That approach allowed Carter to grab 1,101 balls and accumulate 13,899 yards during his 16-year career. Twelve of those years came as a member of the Vikings where Carter experienced his best individual seasons. Carter remains the all-time franchise leader in receptions, receiving yards, and touchdowns. However, Carter never came close to winning a Super Bowl ring, but judging by Ismail's comments, Carter is totally okay with that just as long as he has his numbers.
Via
Pro Football Talk