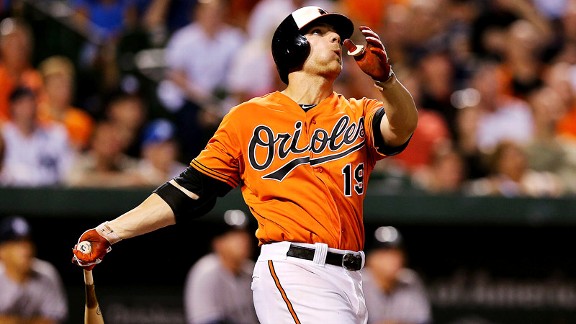 Baltimore Orioles first basemen
Chris Davis
shut down his Twitter account just before the All-Star Game last week after finally deciding enough was enough on the intense scrutiny he has faced in the midst of a terrific individual season.
"I gave it about a year. I told [PR director Monica Barlow] I'd try it for a year and see how I felt about it. It wasn't my cup of tea."
Davis, who is currently the Major League Baseball home run leader with 37, has been the target of constant analysis and steroid allegations from fans and critics alike lately due to his power surge on the diamond.
The slugger has adamantly denied ever using any form of performance-enhancing drugs in his career and yet the pundits continue to raise speculation about his natural ability.
So, it was only a matter of time before Davis shut himself off from the social media world.
There was no correlation with any time of the year or anything like that. I tried it for about a year and it just wasn't something I was into. For every nine positive things, you get one negative thing. I've had a great following and a lot of support on Twitter. But it's just not something I cared to indulge in anymore.
In fairness, Davis wasn't too active on Twitter to begin with. Majority of his tweets were comprised of bible verses, however, he also occasionally interacted with fans, too, which was the source of a media firestorm when one follower asked whether Davis had ever used steroids. Davis' simple reply of "No" was interpreted by some to mean that he was lying because he didn't include a period.
Via
Hardball Talk