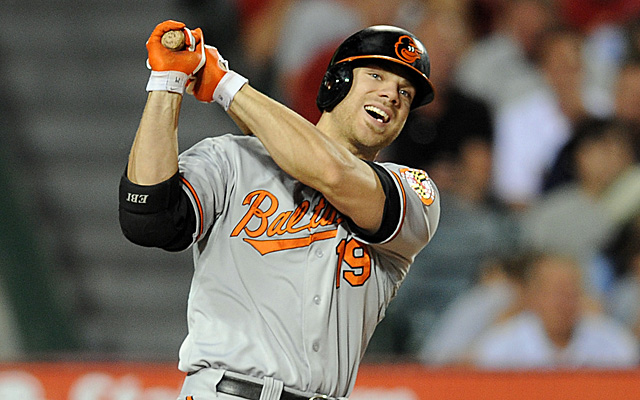 Baltimore Orioles All-Star first basemen and MVP candidate
Chris Davis
is having a tremendous season in 2013. The 27-year-old leads the majors with 34 home runs and is on pace to smash a total of 60 by season's end. Furthermore, he ranks second in the league in RBI (86) to go along with a whopping 1.084 OPS.
But Davis' quick rise to stardom, especially in regards to his display of power, has some critics speculating about whether the slugger's performance has been aided by performance-enhancing drugs. Davis responded to those rumors on Friday and said he understands people are going to ask questions.
"I have never taken them. I have no reason to. I've always been a power hitter," Davis said to the Baltimore Sun. "With me, I think the biggest thing was the consistency of the contact … When I was making contact, I was always hitting for power. I'm a guy that likes to work out a lot. I'm a guy that used to eat whatever I wanted to, but I started getting into my mid-20s, I've been seeing that change. So I've been taking better care of my body. I have a pretty strict diet. But I've never taken [performance-enhancing drugs]. I haven't felt the need to."
Davis also previously stated that he believed the true single-season home run record holder was
Roger Maris
. The Yankees legend belted 61 during the 1961 campaign.
"I think when McGwire and Sosa did what they did in 1998, it was awesome to watch. And then when all the stuff came out with the PEDs and all of that, it was really disheartening," said Davis. "And if there are people that want to get upset with me saying that 61 is still, in my opinion, the single season record, I'm entitled to my own opinions and own beliefs."
Davis, who broke into the big leagues with the Rangers in 2008, has already surpassed career highs in home runs, RBI, and doubles this year, and it's not even the All-Star Break yet. So, it's not hard to imagine why some folks are skeptical that what they are seeing is 100 percent natural.
Via
Sports Illustrated