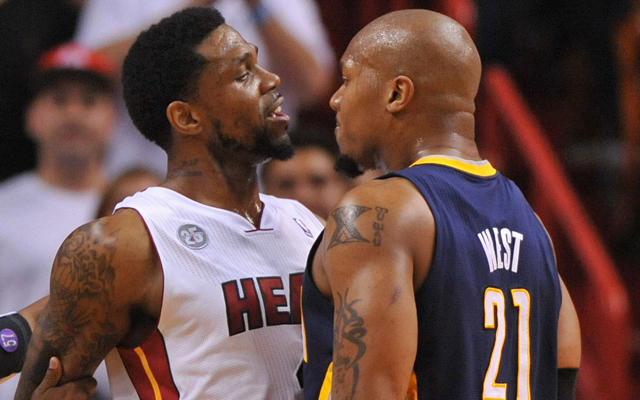 Miami Heat reserve Udonis Haslem had a hand in eliminating the Indiana Pacers from the playoffs. The 32-year-old averaged 6.4 points and 4.0 rebounds per game during the Eastern Conference Finals. And he came up huge in Game 3 and Game 5 by scoring 17 and 16 points, respectively.
Naturally, Haslem is really glad to see the Pacers gone from the postseason. But his reasoning for that seemingly has more to do with Pacers fans than the Pacers themselves. The Florida Gators product ripped Indiana fans for being "really rude" in addition to strangely lacking a Gator Nation presence.
"Gator Nation's strong, man," Haslem told reporters after Friday's practice. "Everywhere I go, we got Gators. No matter who I'm playing against, except for Indiana. There's not many Gators there and they were really rude, actually. That's one team I'm not sad that had to go home."
I'm not sure how Haslem would expect an opposing fan base to act like during an intense playoff series, but apparently the behavior of Pacers fans during the Eastern Conference Finals was not up to snuff. I also find it hard to believe that every other NBA franchise boasts plenty of fans with Florida ties. But hey, that's just me.
Haslem attended the University of Florida from 1998 to 2002. Current Heat teammates Mike Miller and Matt Bonner played with him in stints with the Gators, as well. Let it be known that Haslem does not like those who do not like his alma mater. Oh, and he also doesn't like rude fans.
Via
Eye on Basketball