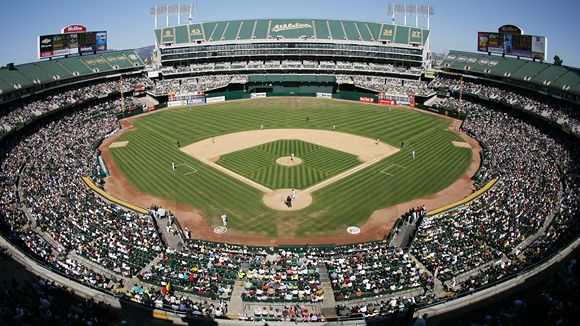 Oakland Athletics owner Lew Wolff believes the venue his team plays in is crap.
The A's and Seattle Mariners found themselves in an extremely
gross and odd situation
Sunday afternoon when raw sewage flooded into the clubhouse and forced the two teams to shower together in the other unaffected clubhouse. It was yet another example of how the facilities at O.co Coliseum aren't exactly up to par.
On Monday, Wolff was understandably upset over the situation as he fielded telephone calls from media outlets, apologized to the Mariners, talked to stadium officials, and gave an ear full to Major League Baseball authorities.
"It's all a bunch of crap,'' Wolff said. "It's a sad situation. I'm not the one in charge of raw sewage."
Apparently, this isn't the first time the stadium has had trouble with raw sewage backing up. Wolff cited a separate incident that occurred last Wednesday when a sewage leak in the kitchen of one of the stadium's restaurants forced the place to immediately shut down. Wolff said customers had to be turned away and his appetite was lost afterward.
"This is not the first time, has been a continuing problem,'' Wolff says. "We're sitting in a 46-year-old venue, in an economic situation where the joint partners don't have the funds to maintain the facility. It's not up to us to maintain it.''
The Coliseum is jointly owned by the city of Oakland and Alameda County. Numerous complaints have been filed over the years about the condition of the stadium and the need for renovations, however, those complaints about infrastructure have not produced a resolution. Naturally, this has team officials, players, and fans frustrated.
Wolff appropriately described the situation by saying, "It stinks.''
Via
USA TODAY