Ohio State president Gordon Gee has issued an email apology to Arkansas head football coach Bret Bielema in the wake of some inappropriate comments that surfaced on Friday. The comments stemmed from a December meeting with the school's athletic council and produced a barrage of controversial remarks from the big-mouthed Gee. Here is the one regarding Bielema, who at the time had just left Wisconsin for the Arkansas job:
"Someone was saying to me, well, you know, Bret Bielema leaving ... that was a blessing for Wisconsin and they knew it," said Gee. "Because he was under tremendous pressure. They didn't like him. Barry Alvarez thought he was a thug. And he left just ahead of the sheriff."
Alvarez has since denied those feelings toward Bielema
in a statement
.
Now, facing tremendous heat from the public, and fearing for his job, Gee is sending out apologies left and right. Here is the message Gee sent to Bielema: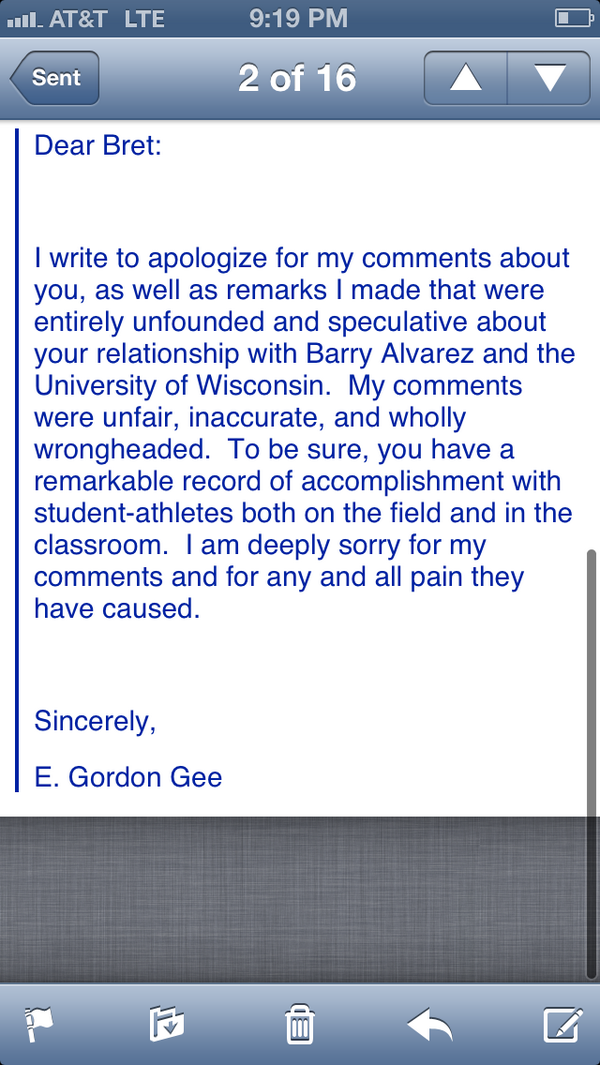 Bielema called the apology from Gee "a start" and added that he expects a phone call soon, as well.
Is this a case of "too little, too late," though? It seems Gee's propensity to say stupid things has become increasingly evident over the years. However, the university continues to brush it aside without handing down much consequence at all. The fact that Mr. Gee still has one of the premier educational leadership roles in America should be considered a travesty and a troubling sign of the current times. And the fact that Mr. Gee chooses to sport a bow tie similar to a circus clown is downright ironic.
Via
Sports Illustrated