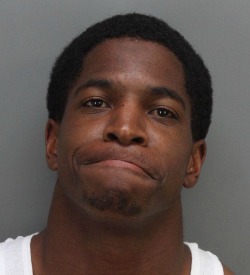 The outlook for former Detroit Lions receiver Titus Young keeps looking worse and worse.
Young appeared in Orange County Superior Court Friday after having been arrested three times this month and faces multiple charges including burglary, battery, and drunk driving, among others. Those are serious offenses no matter who you are. But Young, who has been in jail since May 11, doesn't appear to be too worried about the current situation he is in.
According to the
USA Today
, Young refused to address the judge in his court appearance. In fact, the maligned individual refused to speak at all.
Here is how his exchange with the judge went:
"Good morning, sir."

No reply.

"Can you hear me?"

No reply.

"Are you Titus Demetrius Young?"

No reply.
The judge then ordered the attorneys into a private meeting, which spanned roughly 15 minutes, as Young sat stoically and silently in his orange inmate suit.
At one point, Young's father, Richard Young, called out to his son, but there was no reply there, either.
Young's attorney later stated that Young was simply exercising his right to remain silent during the proceedings. However, given his recent troubles, it seems as though Young has gotten to the point where he just doesn't care anymore.
The judge decided to raise Young's bail from $25,000 to $50,000 claiming that "Mr. Young poses a danger to the community."
Via
Pro Football Talk