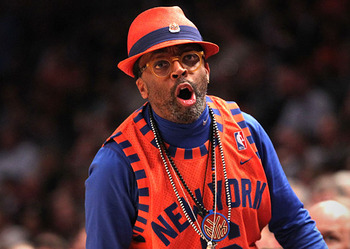 Spike Lee has a long and
well-documented history
against the Indiana Pacers.
The New York Knicks superfan has been tormenting the Pacers organization ever since the early 1990s when the two teams saw each other in the playoffs on multiple occasions. Every one of those meetings turned out to be epic, and despite sitting in the stands, Lee played a role in several of them.
Now, in 2013, the Pacers and Knicks find themselves locked in a heated playoff series yet again. And Lee wants to be courtside for each and every game, which presented a challenge for him Saturday night when the Knicks paid a visit to Conseco Fieldhouse.
So, the 56-year-old reportedly offered a Pacers fan $40,000 to part with four tickets behind the home team's bench, but the ticket holder turned Lee down. The man who owned the seats was none other than Stewart Reed, a loyal Pacers fan, and co-owner of Fuzzy Zoeller's Vodka.
Nice move, Mr. Reed. Reed probably saved Pacers players a heavy dose of trash talking from the boisterous Lee during Game 3. Perhaps this helped play a role in Indiana's 82-71 victory, too?
For what it's worth, Lee, wearing his Knicks' No. 3 John Starks jersey, ended up seated on the floor across the court from the Knicks' bench for the game.
Via
Bleacher Report