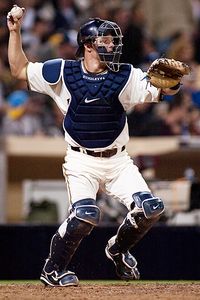 Nick Hundley
has served as the San Diego Padres starting catcher this season, but his role could be in jeopardy once teammate
Yasmani Grandal
returns from his 50-game suspension later this month.
Grandal, who was acquired by the Padres prior to last season from the Reds, posted solid numbers in 2012 (.297 BA, 8 HR, 36 RBI, 60 G) and many believed he was in line to be the team's starter in 2013 before being reprimanded by MLB in the offseason for violating the league's substance abuse policy.
Meanwhile, Hundley was in line to serve as the backup this year. He has long been considered a promising player, but has yet to live up to expectations in what is now his sixth season in the major leagues. So, one can only imagine the animosity Hundley may feel toward Grandal.
On Wednesday, Hundley may have slipped and let those feelings become a little more transparent.
"You want to talk about a guy who is unproven and had a good couple months on steroids, go ahead," Hundley told
U-T San Diego
.
When asked about the competition between the two players once Grandal returns Hundley said, "I haven't given it any thought," he said.
Yeah, sure.
Manager
Bud Black
has already stated that he will play both players once Grandal returns. However, the bulk of the playing time will be based on performance.
At 29-years-old, Hundley is a full five years older than Grandal. Therefore, the Padres may be secretly hoping Grandal is the one who ends up winning the job back.
Another thing Grandal has going for him is that he is a switch-hitter, and a relatively good one at that.
It remains to be seen how the competition will play out between these guys. But one thing is for sure, Hundley isn't going down without a fight.