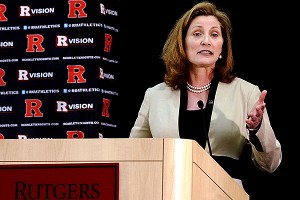 The Rutgers University athletic department continues to be marred by controversy and scandal.
On May 15, the school announced the hiring of Julie Hermann as its new athletic director to replace Tim Pernetti, who quit in April after firing men's basketball coach Mike Rice. However, Hermann is already facing some heat because of claims made by former players alleging they were faced with "mental cruelty" while Hermann was coaching Tennessee's women's volleyball team in 1997.
All 15 players on that team were united together by a letter submitted to the administration claiming their coach ruled over them through humiliation, fear, and emotional abuse.
From the
The Star-Ledger:
"The mental cruelty that we as a team have suffered is unbearable," the players wrote. Specifically, they said the coach had called them "whores, alcoholics and learning disabled."
In blunt terms, the players wrote, "It has been unanimously decided that this is an irreconcilable issue."
Hermann, the players say, absorbed the words, turned to her team, and said simply: "I choose not to coach you guys."
Hermann eventually found her way to the University of Louisville where she became the top athletic administrator outside of athletic director Tom Jurich.
"No one on the coaching staff doesn't believe that we need to be an open book, that we will no longer have any practice, anywhere at any time, that anybody couldn't walk into and be pleased about what's going on in that environment. It is a new day. It is already fixed," Hermann said at her introductory news conference.
Rutgers is in desperate need for a leader to come in and clean up the recent troubles in its athletic department. Rice was fired after practice videos surfaced of him shoving and throwing basketballs at players while yelling gay slurs. And although not a serious transgression, earlier this month it became known that the man hired to replace Rice, Eddie Jordan, is not a graduate of the school as the university had claimed at his introductory press conference.
Ironically, Hermann seems to have plenty of baggage of her own.
Aside from the allegations that have recently surfaced from her former players, Hermann was also questioned about a 1997 jury verdict that awarded $150,000 to a former assistant who claimed Hermann fired her because she was pregnant. Hermann said she let the assistant go because she felt the baby would interfere with job performance.
Hermann stopped short of admitting fault in the lingering allegations against her, though.
"I never heard any of this, never name-calling them or anything like that whatsoever."
The word "whore," she said, is "not part of my vernacular. Not then, not now, not ever."
"None of this is familiar to me," she said.
However, interviews with former players by the newspaper produced a different story:
"Their accounts depict a coach who thought nothing of demeaning them, who would ridicule and laugh at them over their weight and their performances, sometimes forcing players to do 100 sideline push-ups during games, who punished them after losses by making them wear their workout clothes inside out in public or not allowing them to shower or eat, and who pitted them against one another, cutting down particular players with the whole team watching, and through gossip.
"Several women said playing for Hermann had driven them into depression and counseling, and that her conduct had sullied the experience of playing Division I volleyball.
"
Hermann is officially slated to take over the department on June 17.
Via
ESPN