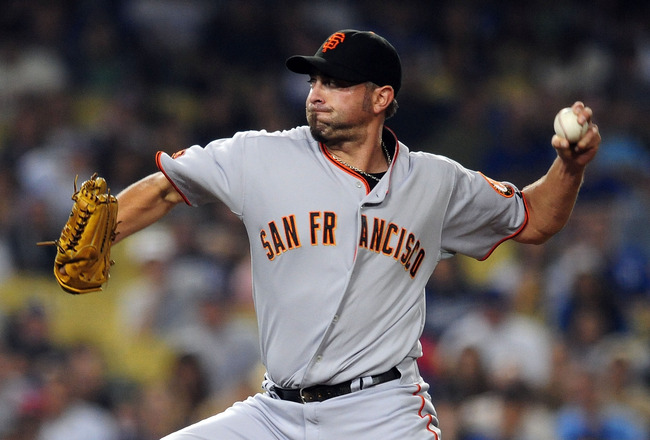 San Francisco Giants relief pitcher
Jeremy Affeldt
admits that he had negative feelings toward the gay population when he moved to the Bay Area in 2009.
Affeldt, who is in his fifth season with the Giants, reveals his battle with homophobia in his recently released book entitled "To Stir a Movement:" Life, Justice, and Major League Baseball." Affeldt also details the story of how he returned $500,000 to the Giants after noticing an error in his contract in 2010.
The southpaw and father of three youngs boys acknowledged in his book that he felt super uncomfortable when joining the Giants organization. Affeldt said he refused to leave his hotel room when he visited San Francisco as an opposing player, citing the city's reputable gay community, and his homophobia, as the primary reason.
However, once he signed a free agent contract with the Giants prior to the '09 season, the 33-year-old made an effort to transform his feelings toward the gay population, and now says he believes he was wrong to judge a city based solely on sexual orientation.
"I didn't leave my hotel room when we came to play the Giants or A's. I didn't want to go out or see anyone," he said. "There was a profession of being wrong. I've come to that from a deep angle. I'll probably get a lot of flak from the church for it, but I believe I'm right."
Affeldt claims he was raised in a sheltered environment in Spokane, Wash. and never really encountered people who were gay. Now, Affeldt encounters members of the gay community every single day.
"There's a chapter in there of me coming to San Francisco and being hesitant because I had homophobia, and now I don't," he said. "I see more San Francisco as a city of love and a city of passion and compassion. It's unbelievable this city. To see that and to have my heart change as a city I didn't ever want to come to, to a city that I'm so thankful I'm going to be part of for a long time, it talks about that. For me, it was an awesome deal."
Affeldt, who is a noted Christian, first began to challenge his old way of thinking when he spent the 2008 season as a Cincinnati Red. It was there in the Queen City where a gay Starbucks employee befriended one of Affeldt's oldest sons and the three quickly developed a friendship.
"I'm going to look at a group of people who maybe don't share the same views as I do morally but the reality is there is no difference, none," he said. "They're human beings, and I'm going to love on them just as God told me to love all human beings. I'm not going to sit there and worry about all that other garbage. It's a matter of love your neighbor as yourself."
Affeldt's time in San Francisco has been just as fruitful on the field as it has been personally. The veteran reliever has pitched on two World Series championship teams (2010, 2012) and has compiled a tidy 2.73 ERA in 277 appearances. He currently boasts a 2.70 ERA in 16 appearances in 2013.
Via
Huffington Post